Venezuela Fast Facts – CNN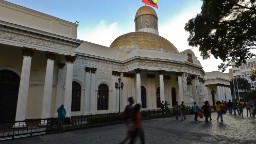 Capital: Caracas
Ethnic Groups: Spanish, Italian, Portuguese, Arab, German, African and indigenous groups
Religion: Roman Catholic 96%, Protestant 2%, other 2%
Unemployment: 27.1% (2017 est.)
Other Facts
Venezuela is located on the northern coast of South America, sharing a border with Colombia, Brazil and Guyana.
Timeline
1520s – First settlement by Spanish explorers.
July 5, 1811 – Venezuela declares its independence from Spain, leading to more than ten years of war for independence.
1821 – The Spanish Army is defeated, and Venezuela becomes part of the Republic of Gran Colombia.
1829 – Venezuela breaks away from Gran Colombia to become an independent republic.
1958 – After decades of political instability and military rule, a coup leads to democratic reforms that culminate with a presidential election. Rómulo Betancourt is elected president.
December 1998 – Chavez is elected president.
1999 – Chavez introduces a new constitution that extends his term and strengthens the executive branch while reducing the influence of National Assembly. Voters approve of the changes via a referendum.
July 30, 2000 – Chavez is re-elected.
December 2, 2002 – A national strike begins to protest Chavez. The strike lasts more than two months and affects oil prices worldwide.
February 2, 2003 – Opposition leaders launch a petition drive, collecting signatures endorsing several demands including the immediate removal of Chavez.
June 3, 2004 – The National Electoral Council announces that the opposition has collected enough valid signatures to call for a referendum against Chavez.
December 3, 2006 – Chavez wins re-election.
February 15, 2009 – A constitutional referendum passes allowing Chavez to run for another term in 2012.
April 17, 2017 – Maduro orders armed forces into the streets following weeks of deadly, anti-government protests.
March 25, 2019 – A second power outage hits parts of Caracas.
July 4, 2019 – The UN High Commissioner for Human Rights report on Venezuela is published. Based on research conducted January 2018 to May 2019, the report "highlights patterns of violations directly and indirectly affecting all human rights." It offers a list of recommendations that the Venezuelan government should act on immediately.